Virtual Parent Teacher Conferences Oct. 28-29
Conferencias virtuales de padres y maestros el 28 y 29 de octubre
Best & Brightest
Mejor y más brillante

Virtual Parent Teacher Conferences Oct. 28-29
Conferencias virtuales de padres y maestros el 28 y 29 de octubre

EAEC Virtual Curriculum Night Sept. 22
EAEC Noche virtual de currículo Sept. 22
Back to School Meal Distribution
Distribución de comidas a regreso a clases
October 27
Start of Second Quarter
Inicio de Segundo Trimestre
October 28
No School - Parent Teacher Conferences
No hay clases - Conferencias de Padres
October 29
No School - Parent Teacher Conferences
No hay clases - Conferencias de Padres
November 11
No School - Veterans Day - District Closed
No hay clases - Día de los Veteranos - Distrito Cerrado
November 17
Half Day for Students - School Improvement
Medio día de asistencia estudiantil - Mejoramiento escolar
November 24
No School - Thanksgiving Break
No hay clases - Vacaciones de Acción de Gracias
November 25
No School - Thanksgiving Break
No hay clases - Vacaciones de Acción de Gracias
November 26
No School - Thanksgiving Break
No hay clases - Vacaciones de Acción de Gracias
December 17
Half Day for Students - School Improvement
Medio día de asistencia estudiantil - Mejoramiento escolar
December 23
No School -Winter Break
No hay clases - Vacaciones de invierno
December 24
No School -Winter Break
No hay clases - Vacaciones de invierno
December 25
No School -Winter Break
No hay clases - Vacaciones de invierno
December 26
No School -Winter Break
No hay clases - Vacaciones de invierno
December 27
No School -Winter Break
No hay clases - Vacaciones de invierno
December 28
No School -Winter Break
No hay clases - Vacaciones de invierno
December 29
No School -Winter Break
No hay clases - Vacaciones de invierno
December 30
No School -Winter Break
No hay clases - Vacaciones de invierno
December 31
No School -Winter Break
No hay clases - Vacaciones de invierno
January 3
No School -Winter Break
No hay clases - Vacaciones de invierno
Letter from Principal Taveras Crump
Dear EAEC Families,
My name is Taveras J. Crump and I am the proud Principal of the East Aurora Extension Campus. I am beginning my fifth year as a member of the District 131 staff and I am also a proud graduate of East Aurora High School! The start of the 2021-2022 academic year will mark the beginning of my 20th year as an educator.
Carta del Director Taveras Crump
Estimadas familias de EAEC,
Mi nombre es Taveras J. Crump y me da mucho orgullo ser el director del East Aurora Extension Campus. ¡Estoy comenzando mi quinto año como miembro del personal del Distrito 131 staff y también soy un graduado de East Aurora High School! En este comienzo del año escolar 2021-2022 se cumplen mis 20 años como educador profesional.
East Aurora Extension Updates
Alrededor de East Aurora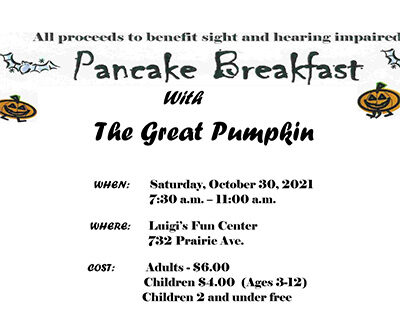 October 25, 2021
Noon Lions Club Pancake Breakfast
Desayuno de panqueques del Noon Lions Club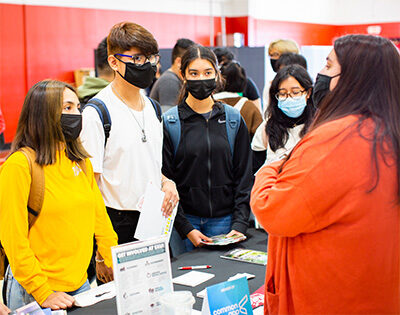 October 21, 2021
East High hosts College and Career Readiness Fair
East High organiza la Feria de Preparación Universitaria y Profesional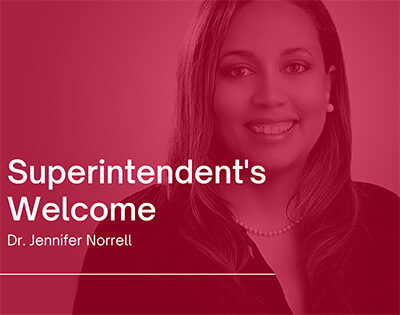 October 19, 2021
District update video for parents from Superintendent Dr. Norrell
Video de actualización del distrito para los padres de la Superintendente Dra. Norrell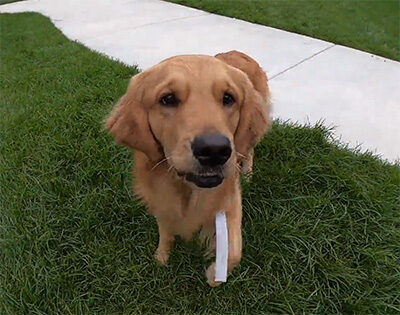 October 19, 2021
Sights and sounds: The Adventures Program
Vistas y sonidos: el programa Adventures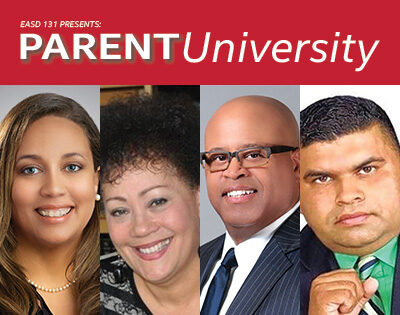 October 8, 2021
Parent University: Saturday, October 16
Universidad de padres: Sábado, el 16 de octubre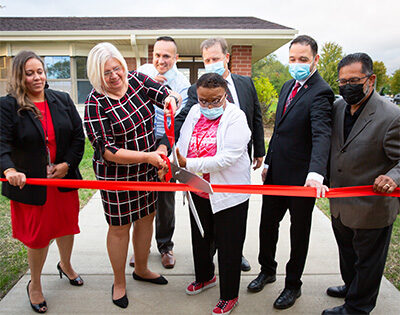 October 7, 2021
District celebrates new Adventures program
District celebra el nuevo programa Adventures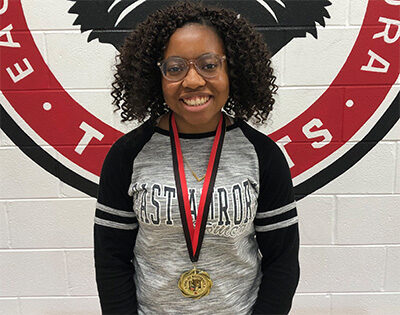 October 6, 2021
East High School Students can register to test for the Seal of Biliteracy
Los estudiantes de East High pueden registrarse para el sello de bilingües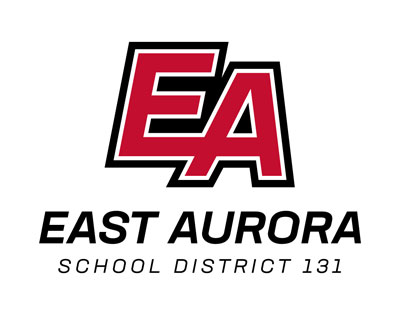 October 6, 2021
Administrators approved at Board of Education meeting
Los administradores son aprobados en la reunión de la Junta de Educación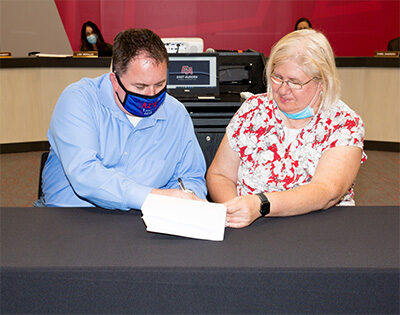 September 28, 2021
School Board approves new five-year contract for teachers, support staff
La Junta Escolar aprueba un nuevo contrato de cinco años para los maestros y el personal de apoyo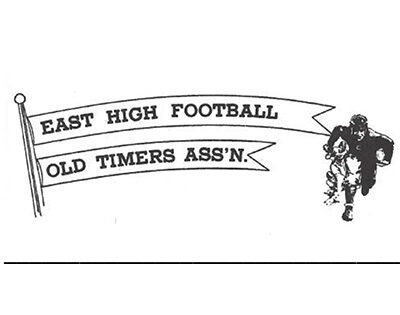 September 20, 2021
East High Football Old Timers to host annual dinner
East High Football Old Timers será el anfitrión de la cena anual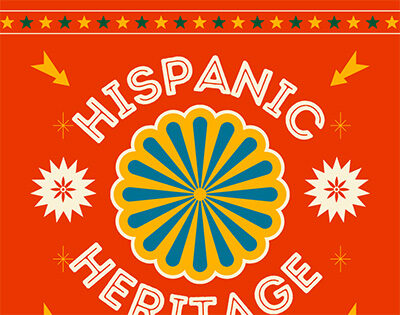 September 16, 2021
Happy Hispanic Heritage Month!
¡Feliz Mes de la Herencia Hispana!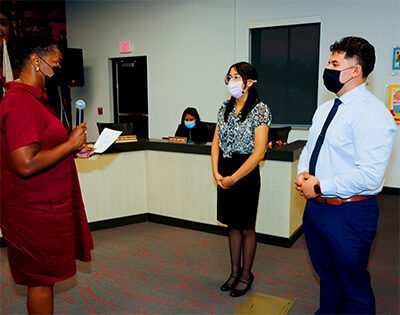 September 8, 2021
Seniors take oath as student board members
Los estudiantes de último año juran como miembros de la Junta de Estudiantes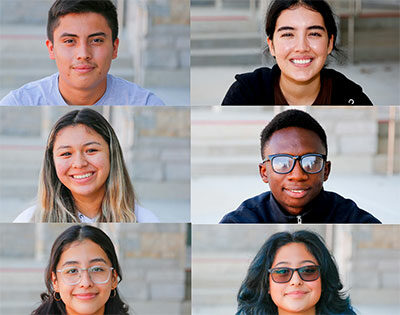 September 3, 2021
East High celebrates AP Capstone Diploma recipients, AP Scholars
East High celebra a los recipientes del diploma AP Capstone, AP Scholars
Happening at East Aurora Extension
Mira que pasa en la Extension