Skip to main content
Best & Brightest
Mejor y más brillante
May 29
No School - Memorial Day - District Closed
No hay clases - Día Conmemorativo a los Caídos en Guerra
June 1
EA Paws Program
Programa EA Paws (Patitas EA) 1 de junio
June 2
Last Day of School - Half Day for Students - School Improvement
Último día de clases - Medio día de asistencia estudiantil - Mejoramiento escolar
June 19
Juneteenth - District Closed
Juneteenth - Distrito cerrado
August 21
Institute Day
Día del instituto
August 22
Institute Day
Día del instituto
August 23
First Day for Students
Primer día para los estudiantes
September 4
No School - Labor Day - District Closed
No hay clases - Día del trabajo - Distrito cerrado
September 21
Half Day for Students - School Improvement
Medio día de asistencia estudiantil - Mejoramiento escolar
October 9
No School - Columbus Day - District Closed
No hay clases - Día en conmemoración a Cristóbal Colón - Distrito cerrado
October 18
Half Day for Students - School Improvement
Medio día de asistencia estudiantil - Mejoramiento escolar
October 19
No School - Parent Teacher Conferences
No hay clases - Conferencias de padres
October 20
No School - Parent Teacher Conferences
No hay clases - Conferencias de padres
October 26
Start of Second Quarter
Inicio de Segundo Trimestre
November 10
No School - Veterans Day Observed - District Closed
No hay clases - Día de los veteranos observado - Distrito cerrado
November 22
No School - Thanksgiving Break - District Closed
No hay clases - Vacaciones de Acción de Gracias - Distrito cerrado
November 23
No School - Thanksgiving Break - District Closed
No hay clases - Vacaciones de Acción de Gracias - Distrito cerrado
November 24
No School - Thanksgiving Break - District Closed
No hay clases - Vacaciones de Acción de Gracias - Distrito cerrado
December 21
Half Day for Students - School Improvement
Medio día de asistencia estudiantil - Mejoramiento escolar
December 22
No School - Winter Break
No hay clases - Vacaciones de invierno
Letter from Principal Taveras Crump
Dear EAEC Families,
My name is Taveras J. Crump and I am the proud Principal of the East Aurora Extension Campus. I am beginning my fifth year as a member of the District 131 staff and I am also a proud graduate of East Aurora High School! The start of the 2022-2023 academic year will mark the beginning of my 21st year as an educator. Before arriving at the East Aurora Extension Campus, I worked for twelve years as a social studies teacher at Neuqua Valley High School and three years as a Dean of students at Plainfield South High School. I also served as a boys' basketball coach in each of the two high schools where I have worked. As previously mentioned, I graduated from East Aurora High School and then went on to attend Eastern Illinois University where I earned a Bachelor of Arts in History. I earned my Masters in Educational Leadership from the University of St. Francis in 2008. All of these experiences have prepared me to serve our community and the students of District 131.
Carta del Director Taveras Crump
Estimadas familias de EAEC,
Mi nombre es Taveras J. Crump y me da mucho orgullo ser el director del East Aurora Extension Campus. ¡Estoy comenzando mi quinto año como miembro del personal del Distrito 131 staff y también soy un graduado de East Aurora High School! En este comienzo del año escolar 2022-2023 se cumplen mis 20 años como educador profesional. Antes de llegar al East Aurora Extension Campus, trabaje por doce años como maestro de estudios sociales en Neuqua Valley High School y tres años como Decano de estudiantes en Plainfield South High School. También cumplí como entrenador del equipo de básquetbol de niños en cada una de las dos secundarias donde trabajé. Y como mencione, me gradué de la East Aurora High School y luego asistí a la Universidad de Eastern Illinois donde me gane mi bachillerato en historia. Me gane mi maestría en liderazgo educativo de la Universidad de St. Francis en el 2008. Todas estas experiencias me han preparado para estar el servicio de la comunidad y los estudiantes del Distrito 131.
East Aurora Extension Updates
Alrededor de East Aurora
May 25, 2023
District Hosts Event Aimed at EA Fathers, Encourages Family Engagement
El distrito organiza un evento dirigido a los Papas de EA y promueve la participación familiar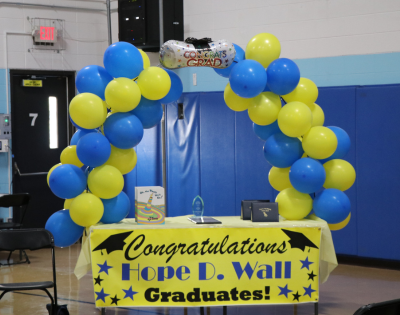 May 25, 2023
East and West Come Together to Celebrate Hope D. Wall Students
East and West Come Together to Celebrate Hope D. Wall Students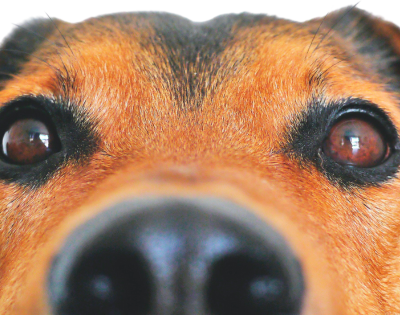 May 25, 2023
EA Paws Program June 1
Programa EA Paws (Patitas EA) 1 de junio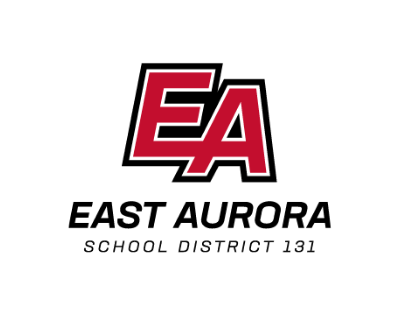 May 23, 2023
CAAP May 24 Meeting Canceled
CAAP Reunión del 24 de mayo cancelada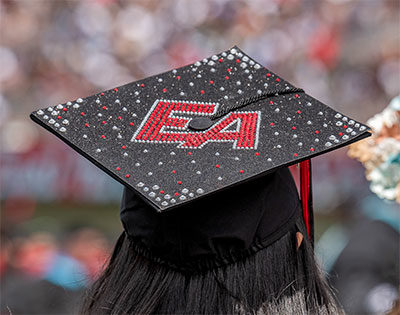 May 23, 2023
EAHS Class of 2023 Graduation Live Stream
Transmisión en vivo de la Graduación EAHS del 2023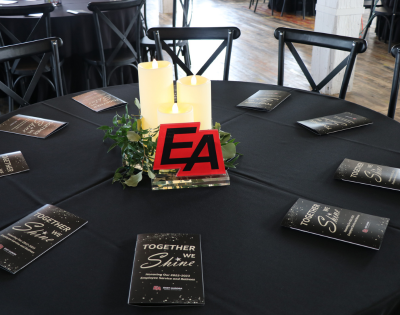 May 23, 2023
Together We Shine Event Celebrates District 131 Staff
Evento Juntos brillamos rinde homenaje al personal del Distrito 131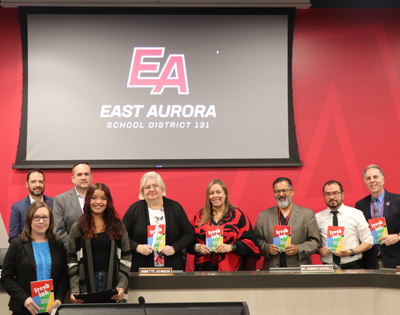 May 17, 2023
Spotlight on Students and Staff
Centro de Atención Sobre los Estudiantes y el Personal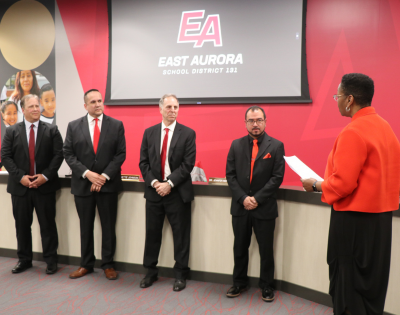 May 2, 2023
New Members Join the EASD 131 Board
Nuevos miembros se unen a la Junta EASD 131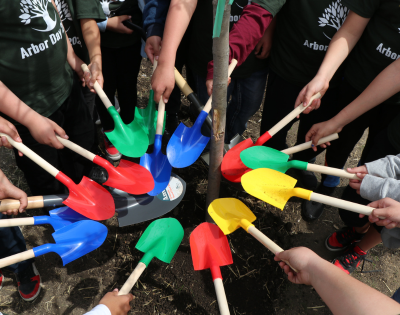 May 1, 2023
Bardwell Blooms on Arbor Day
Bardwell florece en el Día del Árbol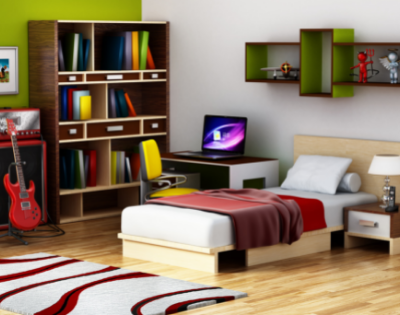 April 28, 2023
Wake Up Call, Spot the Signs of Substance Abuse May 3
Wake Up Call 3 de mayo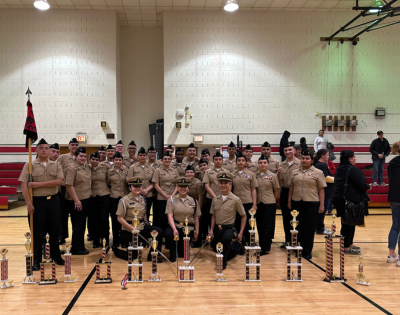 April 27, 2023
Tomcat Drill Team Achievements at Hubbard Drill Meet
Logros del Equipo de riles Tomcat (Drill) en Hubbard Drill Meet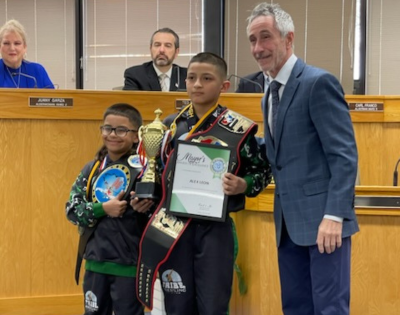 April 26, 2023
Wrestling Champions Recognized
Reconocimiento de los Campeones de Lucha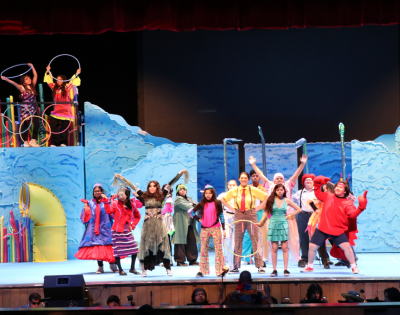 April 25, 2023
F.U.N. at SpongeBob the Musical
Diversión en el Musical de SpongeBob
Happening at East Aurora Extension
Mira que pasa en la Extension